Boulevard Oaks is one of Houston's premier inner city neighborhoods, noted for its beauty and grace. Located near Rice University, approximately four miles southwest of Downtown, its boundaries are the Southwest Freeway to the north, Morningside to the west, Bissonnet to the south, and Graustark/Parkway to the east (plus the 5300 blocks of Cherokee and Mandell, the 1700 blocks of Albans, Wroxton, Bolsover and Rice Blvd., and properties facing Ashby). There are more than 1,200 residences, together with some 30 small businesses along Bissonnet and Sunset. See Map. A wide variety of housing is found in the neighborhood ranging from old mansions to bungalows, and a small section of ranch-style homes built after World War II, though many have been recently replaced by larger two-story homes. The advantages of Boulevard Oaks can be summed up under three headings: location, beauty, and neighborhood culture.
---

Join us for BOCA's 31st Easter Egg Hunt
Saturday, April 8, 2023 from 10 a.m. to 11:15 a.m.
at Broadacres Park
(North Blvd. @ Parkway near the Tennis Courts)

Children 0-8 yrs: Hunt for candy and prize-filled eggs!
Children 9-13 yrs: Take a swing at a candy-filled piñata!
The hunt begins promptly at 10 a.m. Don't be late!
Special guest appearance and photo-op with the Easter Bunny after the hunt!

Volunteers are needed to stuff eggs, decorate and provide refreshments. Sign up online or contact katherinemach@gmail.com. Setup/takedown volunteers please plan to arrive on Sat. 4/8 at 9 a.m.
Volunteers also needed on hunt day to hide eggs -- a great activity for ages 9 & up.

Thanks to Andrew McCain with Compass for sponsoring the hunt!
Additional Sponsors are needed. Sign up online or contact Katherine
---
November - December 2022 Newsletter
---
---
Bike Map for Boulevard Oaks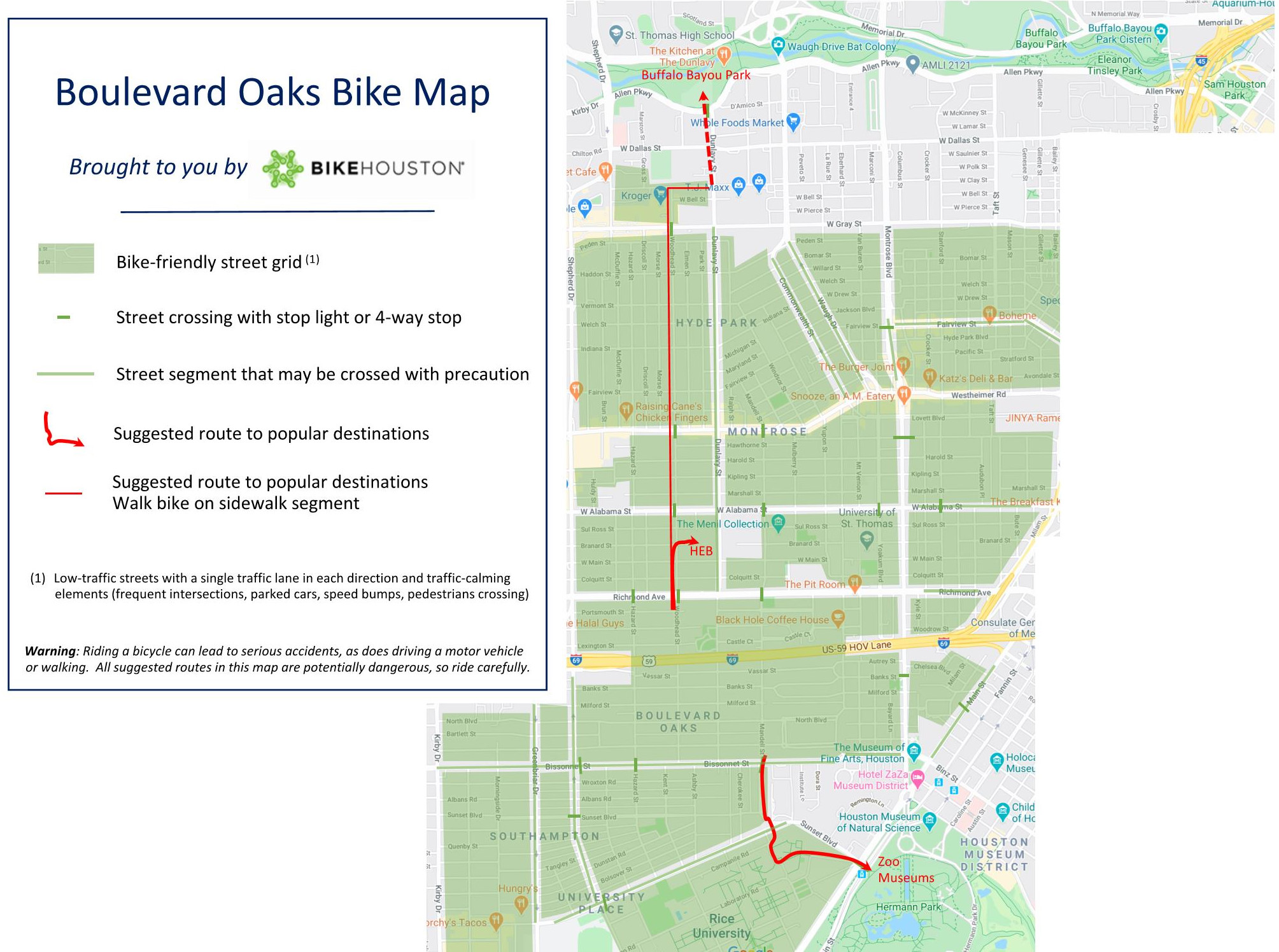 Tired of being stuck home and desperate to have your kids go outside and play? Take your family for a bicycle ride! It's a fun, safe, and healthy way to spend time outside while observing Houston's stay-at-home order. Check out the handy Boulevard Oaks bike map and explore your neighborhood on bike!

Luckily, our neighborhood streets are pretty much all bike-friendly and pleasant to ride on. If you wish to get a little further out, Hermann Park is an easy bike ride away. For even longer rides, Buffalo Bayou Park has excellent bike trails. You can reach either destination using the suggested routes in the map we have provided. Visit www.BikeHouston.org.
---
City of Houston Sidewalk Variance
The city recently changed its standards for sidewalk replacement form 4 ft. wide to 5 ft wide regardless of location and type of street. This new requirement is detrimental to our street trees and alters the character of our neighborhood by creating more paved surfaces. BOCA encourages all neighbors who are contemplating a sidewalk replacement and builders building new homes to replace sidewalks with 4 ft wide sidewalks to match the rest of the neighborhood. The city has a variance procedure that is easy to follow. The application can be found here. Select "HOA Letter" as your reason for requesting the variance. Please attach our letter to your request. The BOCA letter can be found here.
---
Trees for Houston/Boulevard Oaks
Please help keep the" Oaks" in Boulevard Oaks by making a tax-deductible donation to the Trees for Boulevard Oaks program and help keep the neighborhood green. Your contribution will allow us to replace trees that have been lost recently, plant new trees in locations where redevelopment has created new planting opportunities, and to water at-risk trees in locations without access to irrigation. Let us know if you have a specific need for a street tree.

Donate online
through the Trees for Houston website and select "Boulevard Oaks" at the top of the portal to ensure your donation is designated for use within our neighborhood. Or mail a check payable to "Trees for Houston" with a notation of "BOCA fund" in the memo line.
Download the Street Tree Campaign Forms
and mail your check c/o BOCA at P.O. Box 540331, Houston, TX 77254. Please do not mail to Trees for Houston.
Contributions to our neighborhood street tree planting and maintenance program are fully tax-deductible.
More information about this project and ways to protect your street trees can be found
here
.
---
---
(Members can sign up for limited time-sensitive neighborhood news through BOCA E-News.)
Back to top of page