---

BOCA's 4th of July Party
6 - 9pm on Mon. July 4, 2022
1700 block of North Blvd
There will be dancing in the streets on Sunday, 7/4/21 in the 1700 block of North Blvd. from 6 – 9 pm, so get out your red, white, and blue flags, décor, and outfits and join us for the best neighborhood 4th of July party in town. Over the years, the event has grown from a small pot-luck party held on on various blocks of Milford over 50 years ago to a bash with more than 300 neighbors in attendance in some years after the party moved to North Blvd over 40 years ago. We're looking forward to reconnecting, sharing songs, and dancing in celebration of our country.

The 4th of July Yard Signs will be back again.
As a party sponsor you have the option to receive your choice of either a graphic sign as shown above or the winning sign design from the Yard Sign Contest (see contest info & example below).
Support our tradition!
This event is our neighborhood's major annual fundraiser and your financial support is needed and appreciated. We invite you to sponsor the party with your most patriotic donation. The top 4 levels will receive a yard sign.
Donate now or make a pledge.

Sponsor Levels:

Founders $200 & up
Continental Congress $100 & up
Sons/Daughters of Liberty $50 & up
Minutemen (& Women) $30 & up
Patriots $25 & up
Make checks payable to "BOCA", with "4th " in the memo line and mail to BOCA, P.O. Box 540331, Houston TX 77254. Return a
sponsor card
with your selections along with your check. Sponsors at the $100 level and up will be included in printed materials.
More Volunteer and Sponsor Opportunities:
Visit our SignUp page for more sponsor options or to volunteer. Our wish list includes Set-Up/Take-Down party helpers, a Hot-Dogger, Beer donations, Drinks Coordinator and sponsors for the Band (the Blenders), security, drinks, fried chicken, hot dogs, popcorn, ice and more.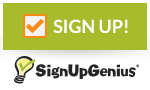 Food & Drink:
Be thinking of your best blue-ribbon salad, dessert, casserole, or other delectable treat for all to share. Guests should bring a LARGE dish as well! As always, BOCA will provide the fried chicken, wine, beer, and soft drinks.
Music:
Houston band "The Blenders" will play all our favorites including the Hokey Pokey and Cotton-Eyed Joe, so get ready to dance the night away!
Set-up/Take Down Parties:
For even more fun, come help set up the canopies and decorations at 6 p.m. on Sunday, July 3rd. Or help take them down at 6 p.m. on Tuesday, July 5th. Free beer and food for workers! Sign up here. Thanks to Picnic for providing food for the set-up party!

Coolers:
Large and small coolers are also needed for the event. If you have any to loan please leave them in the driveway at 1720 North Blvd. at any time during the week before the event. Ensure your name is on the cooler. Sign up here.

Attendance & Guests:
Although the party is free to all Boulevard Oaks residents, it's also BOCA's largest fundraiser and your financial support is needed and greatly appreciated. Show your support with your most patriotic donation level as listed above. The top 3 levels entitle you to bring guests.
Health & Safety:
We will have several new health & safety measures in place including a distanced food line, masked food servers and plenty of hand sanitizer available. Masks optional outside of the food line.
Seating: You may wish to bring folding lawn chairs or a small folding table as seating is limited.
4th of July Yard Sign Contest for Kids
Calling young artists! Submit your designs for the Fourth of July Sign contest. The sign dimensions will be 18"x24" horizontal/landscape orientation. Submit artwork as an 8.5" x 11" PDF or JPG to info@BoulevardOaks.org. Designs should include the name "Boulevard Oaks" and may also incorporate the BOCA tree logo (found on our homepage). The winning design and runners up will be announced in the newsletter. The deadline for entries is June 20th. Include your young artist's name and address in your message.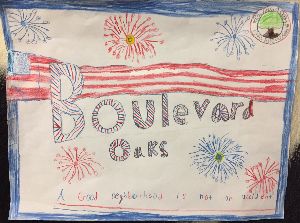 ---
---
Bike Map for Boulevard Oaks
City of Houston Sidewalk Variance
The city recently changed its standards for sidewalk replacement form 4 ft. wide to 5 ft wide regardless of location and type of street. This new requirement is detrimental to our street trees and alters the character of our neighborhood by creating more paved surfaces. BOCA encourages all neighbors who are contemplating a sidewalk replacement and builders building new homes to replace sidewalks with 4 ft wide sidewalks to match the rest of the neighborhood. The city has a variance procedure that is easy to follow. The application can be found here. Select "HOA Letter" as your reason for requesting the variance. Please attach our letter to your request. The BOCA letter can be found here.
---
Trees for Houston/Boulevard Oaks
Please help keep the" Oaks" in Boulevard Oaks by making a tax-deductible donation to the Trees for Boulevard Oaks program and help keep the neighborhood green. Your contribution will allow us to replace trees that have been lost recently, plant new trees in locations where redevelopment has created new planting opportunities, and to water at-risk trees in locations without access to irrigation. Let us know if you have a specific need for a street tree.

Donate online
through the Trees for Houston website and select "Boulevard Oaks" at the top of the portal to ensure your donation is designated for use within our neighborhood. Or mail a check payable to "Trees for Houston" with a notation of "BOCA fund" in the memo line.
Download the Street Tree Campaign Forms
and mail your check c/o BOCA at P.O. Box 540331, Houston, TX 77254. Please do not mail to Trees for Houston.
Contributions to our neighborhood street tree planting and maintenance program are fully tax-deductible.
More information about this project and ways to protect your street trees can be found
here
.
---
---
(Members can sign up for limited time-sensitive neighborhood news through BOCA E-News.)
Back to top of page