Boulevard Oaks is one of Houston's premier inner city neighborhoods, noted for its beauty and grace. Located near Rice University, approximately four miles southwest of Downtown, its boundaries are the Southwest Freeway to the north, Morningside to the west, Bissonnet to the south, and Graustark/Parkway to the east (plus the 5300 blocks of Cherokee and Mandell, the 1700 blocks of Albans, Wroxton, Bolsover and Rice Blvd., and properties facing Ashby). There are more than 1,200 residences, together with some 30 small businesses along Bissonnet and Sunset. See Map. A wide variety of housing is found in the neighborhood ranging from old mansions to bungalows, and a small section of ranch-style homes built after World War II, though many have been recently replaced by larger two-story homes. The advantages of Boulevard Oaks can be summed up under three headings: location, beauty, and neighborhood culture.
---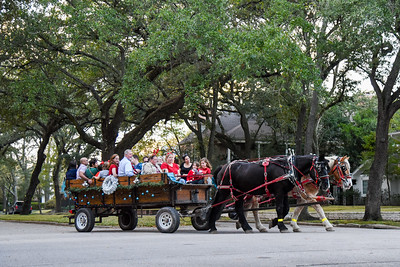 Pictures from the BOCA Caroling Party

Click here to see the picutures from BOCA's annual Caroling Party.
Thank you Elaine Mut for the great photographs!

---

BOCA Partnering with HPD Blue Santa program to fund 2019 Essay Winner prizes (Donations fully tax deductible)
Once again we are partnering with South Central HPD (our local station) this year on two very special events. The first was HPD's "Back to School" bash to provide school supplies and backpacks to underprivileged students in the South Central HPD Community. Through the generosity of neighbors we were able to supply over 200 backpacks this year.
The second event coming up next month is HPD's Blue Santa Christmas event. In addition to HPD's traditional Blue Santa party that provides Christmas activities and toys to thousands of underprivileged children, South Central HPD is also hosting a "Blue Santa Shopping Spree" at a Target Store for 15 disadvantaged students at Lockhart Elementary. The students, selected by the school's administrator(s), will be required to write a one-page essay answering the following question: "How can today's youth and HPD officers build trust with one another?" Although the essay writing will be presented as a writing contest, so that the students feel a sense of accomplishment and that they earned their shopping spree, all 15 students will receive the shopping spree.
Last year's shopping event really reflected the spirit of Christmas. Students spent most of their money on gifts for their siblings, parents and grandparents. We hope you will consider contributing to this delightful and rewarding Christmas event. Please note that all donations are fully tax-deductible. If you wish to donate to this worthy event, checks made out to HPD Blue Santa may be mailed to: BOCA, P.O. Box 540331, Houston, TX 77254 Or donate online at https://houstonbluesanta.org/ via PayPal - be sure to type "Target Shopping Event" in the note section. Please let us know if you chose to donate online to ensure your donation goes toward these events and is flagged as being from a BOCA resident.
HPD South Central thanks you in advance for your community partnership and for sharing their passion to serve our youngest City of Houston residents.
---
---
Please excuse our long absence. BOCA's long-standing web hosting vendor suffered a catastrophic server crash.
We are in the process of rebuilding the website.
---
City of Houston Sidewalk Variance Form
The city recently changed its standards for sidewalk replacement form 4 ft. wide to 5 ft wide regardless of location and type of street. This new requirement is detrimental to our street trees and alters the character of our neighborhood by creating more paved surfaces. BOCA encourages all neighbors who are contemplating a sidewalk replacement and builders building new homes to replace sidewalks with 4 ft wide sidewalks to match the rest of the neighborhood. The city has a variance procedure that is easy to follow. The application can be found here. Select "HOA Letter" as your reason for requesting the variance. Please attach our letter to your request. The BOCA letter can be found here.
---
TREES FOR HOUSTON/BOULEVARD OAKS
STREET TREE CAMPAIGN
---
---
(Members can sign up for limited time-sensitive neighborhood news through BOCA E-News.)